I have a confession – I've bad posture for most of my life. I was really tall from a young age and always felt insecure because of it! I talk about being a tall woman in a short man's world, insecurity, shame and how all of that affects breathing and health (surprisingly connected) here.
I only started to seriously work on my posture a couple of years ago after passing by a tall beautiful women who was hunched over. My immediate thought was "damn, if she just stood up straight she'd look so much better." The image of her trying to make herself smaller, literally, and her visible lack of confidence made an impression.
I knew that was what I looked like.
I've always tried to have better posture. I would try to force myself to roll my shoulders back as I walked. But it was exhausting. And hard. And I would eventually give up.
I lacked the back muscles and effective exercises to enforce a lasting change. However when I became a Yoga teacher it dawned on me – AAAHHHAAA – I finally get it!
I need to:
1st open the shoulders and heart
and then strengthen the back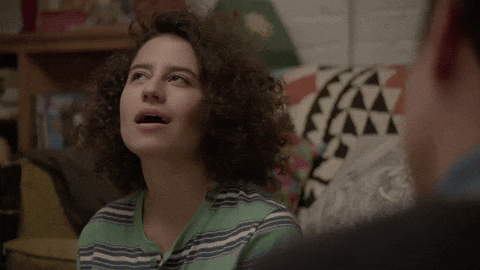 But 1st, let's warm up!
Before we get into these really effective posture correctors, let's warm-up. Even simple stretches and heart openers can seriously strain your back, especially if you already have lower back sensitivities like SI joint issues (guilty).
Jumping jacks, walking/running, or even some simple cat/cows help to protect the body from injury.
Cat/Cow
1st open the shoulders and heart
The first part of our practice will open up hunched shoulders. We do this through Yogic heart openers/backbends which have been an obsession of mine for years. I just can't get enough.
(#1) they encourage this scared little heart of mine to expand and unlock (#2) I always feel a little high afterwards (#3) they seriously stimulate the thyroid.
Yes Please!
So the goal is to bring the shoulders back from a hunched position into alignment with the spine. And we will do this through progressively deeper heart openers/backbends.
And although a lot of the poses seem really similar, I've learned that the best strategy with anything involving the back is to go slow and steady. The back does not like to be jerked into any type of backwards movement. Be gentle. Go slower than you think is necessary.
You will love it. Promise.
Sitting Heart Opening Poses
1. Camel variation 1 – cross legs, roll shoulders back, lean back onto finger tips.
Option 1 – keep your head up if you have neck sensitivities.
Option 2 – carefully drop the head back.
2. Camel variation 2 – keep the position the same, now lay the palms flat onto the ground.
***Note – in all following poses, keep your head upright or drop it back. Your choice!***
3. Camel variation 3– come up to sit on your legs, lean back onto fingertips
4. Camel variation 4 – keep the position the same, now lay the palms flat onto the ground.
5. Camel variation 5– balance on the knees, hands to the lower back, tuck tailbone, engage abs, lean back.
6. Camel Pose – come into the full expression of Camel Pose. Engage the core, tuck your tailbone, lean back, and drop your hands to your heels.
7. Puppy pose – slide hands in front of you, butt in the air, reach the heart towards the ground.
Standing Heart Opening Poses
8. Standing backbend – hands on lower back, tuck tailbone, engage abs, and lean backwards.
Option 1 – keep head upright
Option 2 – drop head carefully backwards
9. Standing backbend variation– interlace the hands behind you, reach back.
10. Standing forward fold – bring feet wide, interlace hands behind you and bend forward.
11. Wall heart opener – place hands above you, palms flat against the wall, reach heart through arms and towards the wall.
12. Downward dog – stretch heart towards the ground.
On the Belly Heart Openers
13. Sphinx Pose – slide the hips behind you, forearms and palms flat on the earth, actively pull the heart forward
14. Cobra Pose – extend the arms out straight, inhale and push the hands into the ground raising the chest upwards.
15. Bow pose – reach back and grab your ankle/toes, push the feet into your palms, big inhale brings the chest and thighs off the ground.
and NOW to strengthen the back…..
Since we've done the work to peel back the shoulders from a hunched position and are now able stand up straight with complete confidence, let's strengthen those back muscles!
Strengthening the back muscles allows this upright posture to be locked into position. Those muscles will support your new found tall posture and give you the stamina to enforce long-lasting change.
Strengthening On the Belly
16. Locust pose variation 1 – place the hands under the shoulders – palms downwards. Inhale and lift the hands off of the ground.
17. Locust Pose variation 2 – interlace the hands behind you, inhale lifting the chest and legs and extending the arms upwards.
18. Locust pose – place hands beside parallel to the body. Inhale lifting the chest, arms, and legs off of the ground.
19. Superman Pose – with arms in goal post position, inhale lifting arms and legs off the ground. Squeeze the elbows towards each other.
The Role of Abs for Good Posture
A big component of good posture is a strong core. All the ab muscles that make up the core stabilize the pelvis and help to keep you upright. One exercise that I've found particularly helpful is the isolating pelvic tilt.
It's pretty popular these days to stick your booty out. There's no shame anymore to have a big caboose (thank god). However some of us have been anteriorly rotating our pelvis for many years showing off what our momma gave us.
So we need to stop that since it's seriously screwing up not only our posture, but putting a huge strain on our hamstrings and lower back. It also disengages the core and asks that it not participate in daily activities.
All bad news. So let's fix that!
For this exercise stand in front of a mirror so you can see your belly.
1. "Tuck" your tailbone so that it shoots down towards the ground, not swooshing upwards.
2. Pull the belly IN.
3. Now pull the belly UP.
This engaged and consolidated sensation is what you should practice throughout the day. We're not doing it all day…. I'm talking to you perfectionists. We're just doing it periodically throughout the day to train and remind the body about the changes we're implementing.
And For the Finale!
How about a little self-love for the finale? Because physical exercises are only half of the battle on our way to better posture. How we feel about ourselves on the inside is directly expressed on the outside. Our bad posture tells the world exactly how we feel about ourselves. Time to change that! Cause we're awesome.
So let's do a positive affirmation!
Correcting my posture is an act of bravery. I stand up tall and allow myself to take up all the space I need in this world. Rather than averting my eyes and crawling back into my hiding place inside, I fully step into my height, width, and breadth of who I really am. I let all shame and insecurity fall away from my shoulders. I feel light and free, unshackled from the burden of embarrassment. I lift my head towards the sky and think about my many strengths. Too many to name. I vow to continue to focus on all that I am, always, and not what I'm not. Because the "not" is so insignificant. May I be a bright and shining light of confidence in a world where little girls are asked to remain small and hidden. I stand tall for all of them. And for the little girl inside of me who needs the reminder sometimes of a powerful statuesque woman in all her glory.
Jessica standing up tall ☺️