Welcome to Heal Yourself Yoga!
Honestly I've written a couple of versions of this "About Me" page and they all end up sounding cheesy and sales-y (thanks Life Coach!). So I'd rather just dive in far too quickly than is advised. And be way more honest than is socially acceptable.
I'd like to jump into both my personal story and credentials right away for a couple of reasons. I want you to know:
Who I was before I started this Heal Yourself Yoga journey
What prompted a drastic change (spoiler alert!)
And help you feel at ease knowing about my training and background.
And I honestly hate searching on other people's "About Me" pages to find out how trustworthy and legit a person is. So I won't do that to YOU!
So here we go! Previous to my Yoga career, I worked for two Fortune 40 companies and earned an MBA. During this time, I traveled to India and earned my 200 hr Yoga Teachers Certificate.
I in no way wanted to learn about the heritage and ancient teachings of yoga from "Nancy" in Illinois. And I found it outrageous that studios were charging $3000 for a training that would take me decades to break even on making $25/hr.
So instead, I lived in Mumbai for 5 weeks at an Ashram where I found out that Yoga is far different in the mother country than it is in the U.S.!
What prompted such a drastic and highly unadvisable trip was the death of my mom and subsequent infertility diagnosis.  And as many can attest to, major life events like these change how you want your life to look. I was no longer content to just sit at my soul-less job and be a zombie. I wanted to start helping women like me.
Women who'd gone through some shit.
I wanted to help because I knew how limited truly honest and actually helpful resources there were for women, particularly for us infertile myrtles.
During my own struggle, true to my Type A personality, I searched obsessively for help. Of course I was 1st focused on just how to get pregnant. Because apparently it's rocket science.
I looked far and wide for "Yoga for Fertility," which frankly just felt gross and like a cruel money maker.
I then scoured forums for pregnancy tricks while downing bottles of Mucinex and gnawing away on pineapple cores. I joined support groups (actually helpful). I went to therapy to uncover "hidden blockages" (so not helpful). 1 by 1 each method failed.
Finally I resorted to pathetically lying on my yoga mat listening to cheesy YouTube affirmations. I couldn't think about infertility anymore. I was exhausted and tired of trying. I just wanted comfort as a person. Not as an "infertile person."
Infertility had became my entire world. I could only see down that very narrow tunnel.  The rest of the world became very dim.  The goals and hobbies I once had were replaced by ovulation and mucus tracking.  Who I was as a person didn't matter anymore.
I honestly couldn't remember what my life was life before infertility. Was I happy? What did I do with my time? What did I enjoy? Those questions became irrelevant in my dogged search for a successful pregnancy.
I was disturbed by how little I cared about myself during this time. I didn't care at all about my feelings. I didn't care if I was tired or emotionally unstable. I didn't care about my body and what I was doing to it. I only cared about one thing – getting pregnant.
And after awhile, that just wasn't enough. I didn't want that for my life. So I quit all fertility treatment.
The driving force in my life then became trying to figure out how to get my shit together. I hated my job. I'd failed to become a mother. I had a big ole muffin top from the stress and hormones. And I was VERY depressed.
The infertility process had triggered literally all of my life long "issues." Every single one of them had been brought to the surface. So how the fuck do I now pull myself together now?!
So I began writing it all down. And experimenting with how to – "heal myself." And some may say that it seems rather bold or sacrilegious not only to try to "heal thyself", but to name a website as such. But I named my website Heal Yourself Yoga because I know that literally no one else can heal you. Religion, therapists, pastors, friends and family help. But I actually love that the final stretch to the finish line is all us! ♡
As for me, I've found healing in 3 things – yoga, writing, and Buddhism. So that's what I talk about on this website. I'm not trying to convert anyone or grossly sell you something you don't want. I just want to share.
I've always loved yoga, so I began creating what I always wanted and needed in a yoga sequence during my fertility struggle. I started to record mediations and affirmations simply to hear what I needed to hear during that time.
And writing is my outlet. It's that "thing" for me that makes me feel like the Mother of Dragons. It brings me confidence and a sense of self worth.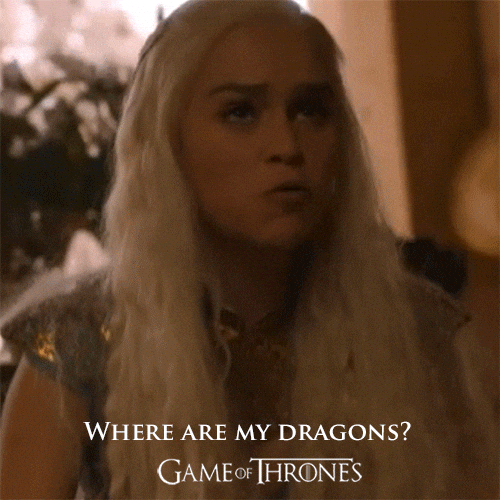 Credit: Giphy
So thank you sincerely for reading what I have to write!
And finally, Buddhism. I'm by no means an expert. I'm not hosting week-long silent meditations or carrying around a zazen pillow. But the 1st time I learned about the basic tenets of Buddhism and meditation I was so shocked. I'd grown up in a fundamental Christian household so the teachings of Buddha were far beyond anything I'd ever been exposed to.
So I write about that experience. And how to incorporate Buddhist teachings into your real life in a no bullshit type of way. Not the typical hippy dippy verbiage of "this is easy and fun and my head is in the clouds." Because sometimes it's not fun. And there are special precautions that need to be taken if you struggle with mental health or trauma.
So if any of that sounds interesting….then welcome. I'm so happy to share this little corner of the world with you. Because that's what I want to do with this precious life – provide a little comfort, honesty and humor.
Jessica with husband Sunny